How to give waste a second life?
How to give waste a second life?
According to public sources, 73% of the Czech population sorted waste in 2020, contributing to more than 713,000 tonnes of recoverable waste in total. However, in reality, only a share of such waste is actually recycled. For instance, it is less than 50% for plastics. This is why the best approach is to actively prevent waste generation, for example, through re-use of waste. How to get started?
Sustainability changing the e-commerce sector
Sorting vs. recycling
Sorting is often confused with recycling. Sorting refers to activities carried out by individuals, while recycling refers to subsequent processes ensured by businesses that use waste as secondary materials, giving waste a "second life".
The separate collection (of waste) rate is relatively high in the Czech Republic. Most of us have been taught to do so from an early age – it is an uncomplicated activity that is beneficial for our planet. Moreover, the average walking distance to separate collection containers is estimated to be only 90 meters. Easy access plays an important role for separate collection rates. In most cases, collection areas include containers for paper, glass, and plastic. Moreover, containers for beverage cartons and metal waste are becoming more common. However, we are still somewhat behind in bio-waste sorting (and particularly sorting of kitchen waste).
Demand for recycled materials increasing
Recycling and sustainability have been gaining traction in today's society. Regardless of whether the changes that aim to ensure more efficient sorting and recycling stem from legislation or consumer pressures and demands, there are more and more initiatives that use recycled materials.
Recycled plastics are used to manufacture products such as cosmetics and toiletries packaging, benches, compost bins, and even payment cards. In Komerční banka, we collaborate with card associations to issue payment cards made of 85% recycled plastic. These cards were first offered to young people, who generally tend to be more environmentally conscious, with our G2 Student Account. Consequently, we not only contribute to waste reduction, but also reduce our carbon footprint. In 2021, we issued more than 30,000 payment cards made of recycled plastic, saving more than 210 kg of CO2 (i.e. 7 g of CO2 per card).
The fact that this was a step in the right direction was also confirmed by our victory in a survey conduced by IPSOS – consumers selected our payment cards made of recycled plastic as the best innovation according to its potential, even beating iPhone 12.
Starting from 2022, eco cards will gradually replace existing plastic cards for all of our products.
Find out more about eco cards
Best waste is no waste at all
As already said, the best waste is that which is not generated at all. As consumers, you can affect this by the choices you make; manufacturers can contribute as well - by improving product design. Naturally, individual countries and their legislation also play an important role. When you generate waste, try to think about ways you can reuse it before you actually throw it away. For example, some food packaging and disposables may be reused, while old magazines, plastic bottles or containers may turn into your children's artworks. Empty cosmetics and toiletries containers may be refilled in package free stores and even some conventional drugstores.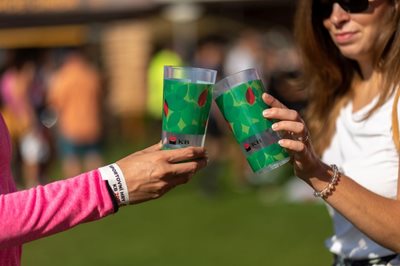 Due to the increasing popularity of online shopping, we can accumulate quite a few boxes throughout the year – these will come in handy when you need to wrap all your Christmas presents. Boxes sometimes contain various fillers that can be used to protect fragile presents or even as ribbons. You can also use plain paper bags to wrap your presents – just add some natural decorations or drawings. And if you cannot find any use for them, you can take them to one of the collection points at www.kamsnim.cz and send to the next round. In Komerční banka, we introduced a reusable coffee cup in our office coffee bar or RE-box in our cafeteria. Swap meets are also quite popular, allowing you to swap clothes or anything else.
Sustainability for a cleaner planet and higher returns
Businesses that catch the sustainability wave right from the start and integrate sustainability principles in their operations will gain a major competitive advantage and attract more customers. Moreover, they can reduce their costs and generate higher returns. How is this possible? Think about implementing circular packaging and containers that reduce cost of production of new packaging or containers, using renewable energy sources or reducing wastage of inputs, just to name a few. Responsible online stores are not only motivated by offsetting or preventing impacts of their operations, but also by cost reductions.
However, sustainability does not only include environmental aspects. Responsible online stores pay attention to other areas, such as safe working conditions for their employees, decent treatment of staff and adequate remuneration, fair dealings and compliance with the relevant conditions throughout their supply chains, support of local communities and promotion of transparency.
This article has been prepared in collaboration with CIRA Advisory.