New improvements in KB Internet Banking
Another four months are over and we have news for you from the digital world.
Display of payment card PIN in MojeBanka and MojeBanka Business
Does it ever happen to you that you forget your PIN? Now you can have it displayed in MojeBanka and MojeBanka Business. This applies to all your debit and credit cards. You can display the PIN in the internet banking in the detail of the card under the button "Show PIN".
You do not have to worry, the function is secure and the button will be available only to the card holder, you must also confirm it with a password / biometric information. We are preparing this feature for Mobilní banka running on Android at the end of August. Owners of iPhones and iPads can look forward to it right after.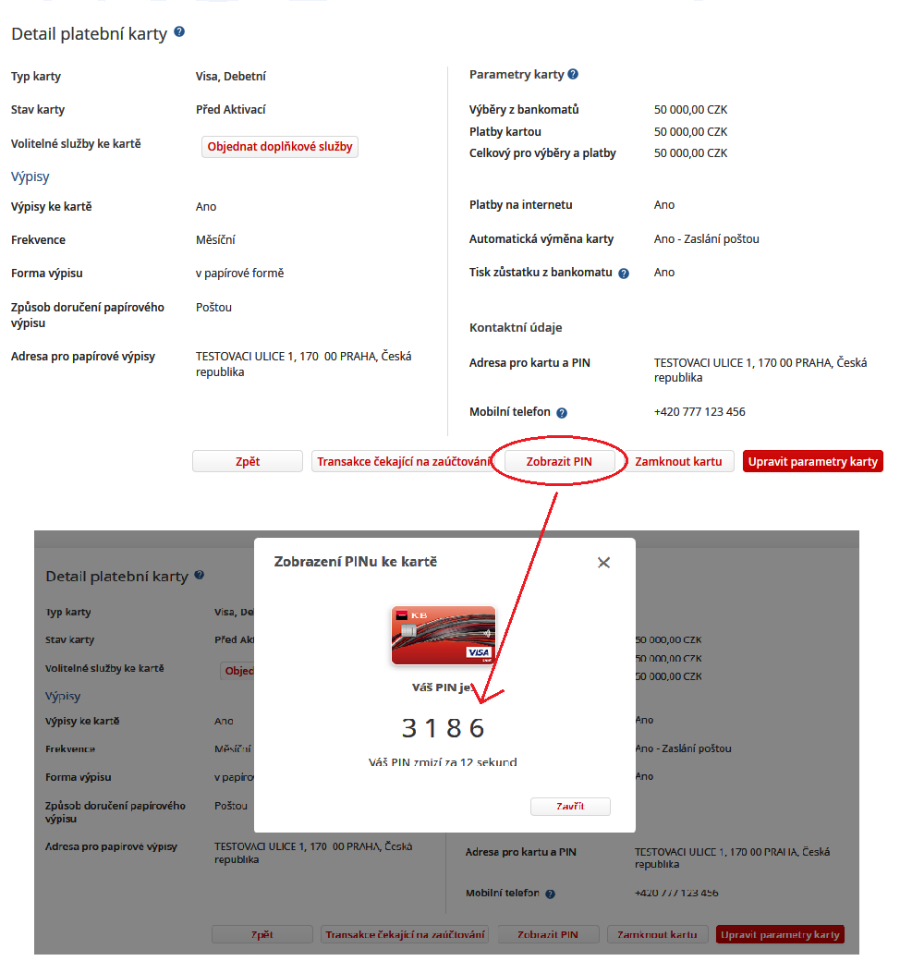 Screen for MojeBanka Business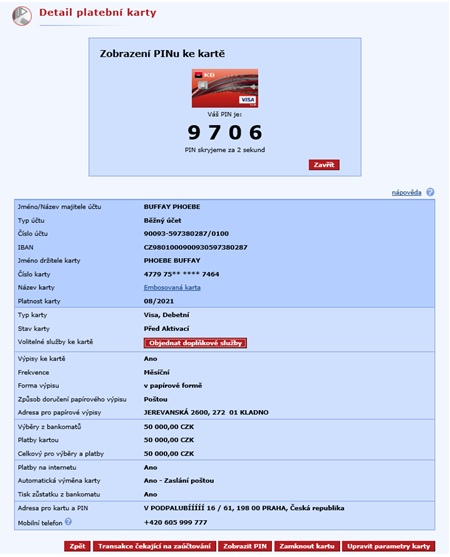 Increase your limits in the MojeBanka and MojeBanka Business internet banking
Have you ever needed to make a purchase that requires a higher limit than you currently have in MojeBanka? Maybe a holiday, a car, or something else?
For such cases, you can now increase the limit directly in the MojeBanka Internet Banking. You can increase the limit if you already have a KB Klíč or have a chip card. The limit can be increased only once for the next 24 hours.
What's important? Read the information carefully when entering the order in MojeBanka and we will guide you where to increase the limit. If you choose to increase your limit while you place an order, you will save this order as an 'Orders for authorization', or enter a new payment.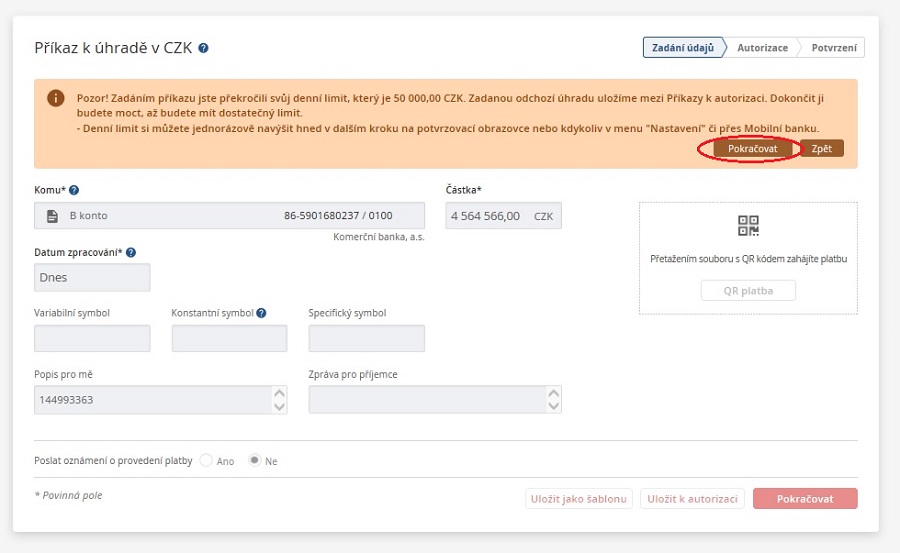 Notification of due date of authorized overdraft (MojeBanka)
In case you get into an authorized overdraft, we will remind you of its upcoming due date. We will contact you by SMS or email. 30 days before maturity for the first time and then 7 days in advance. If our reminder helps you and you repay the authorized overdraft on time, your account will not get into an unauthorized overdraft and you will not have to pay interest or extra charges for unauthorized overdraft.
New logout page of MojeBanka
We put the sign-off page of internet banking in a new suit.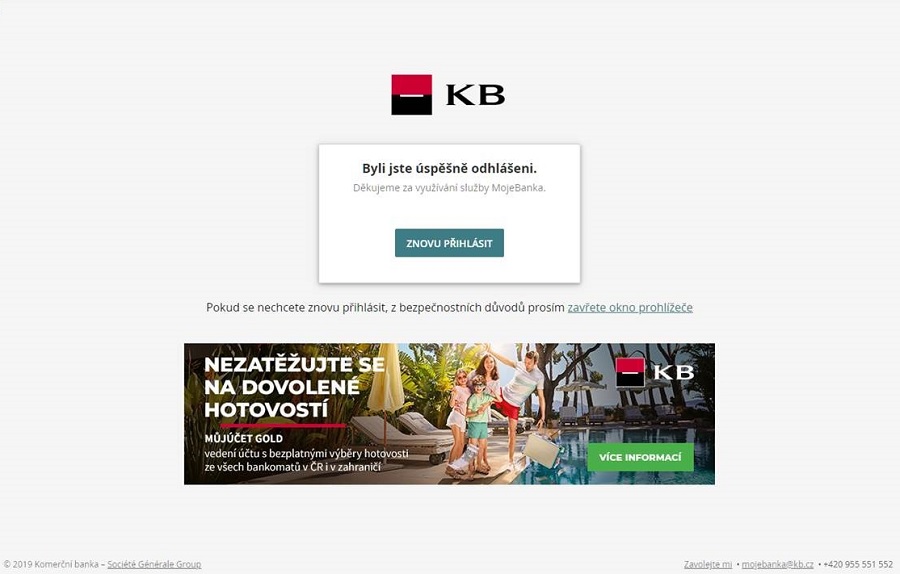 The "Payments" section is now easier (MojeBanka)
We simplify not only Payments, but also overviews of standing orders and direct debits. Now you can find both an overview of all set standing payment orders as well as the possibility to create a new standing payment order under the "Standing Orders" option.
Similarly, under the "Direct debit authorization" option, you will find both an overview of all set up authorized direct debits and the possibility to create a new direct debit authorization.


MojeBanka, MojeBanka Business, Profibanka, Multicash, Mobilní banka, Mobilní banka Business
Recurring payments when there is insufficient money in the account
We will not refuse to issue domestic payment orders in the same currency (e.g. from a CZK account to a CZK account or from a EUR account to a EUR account), if there is not enough money in your account. We will try to send these orders again in the next 2 business days. If after 2 days you still have insufficient funds in your account, the order will be rejected and will not be processed further.
For other payments (domestic in different currencies, SEPA or foreign), in case of lack of money in the account, we try to process these orders repeatedly within one day more often than before.
What are we still working on?
You can link accounts from other banks to one place. You can link these accounts to KB MojeBanka Internet Banking a Mobilní banka Internet Banking.
At the moment, it is possible to link an account from Česká spořitelna, AirBank, Equa Bank, Fio Bank, Moneta, J&T, Wüstenrot and TATRA Bank.
Why is it good to have your accounts linked?
You have an overview of all your accounts from other banks in one place in KB
Everything is safe, because even your linked accounts are protected by the KB systems
Possibility to check balance and transaction history on both computer and mobile
The service is free
How to link accounts can be found on our website - Link accounts
What can you expect in the next months?
Mobilní banka will have a new design
As of the end of August, it will be possible to switch your Mobilní banka app to a black mode for Android devices. If you have an Android 5 or 9, the black design will launch itself once your battery drops below 20%. This saves energy as well as your eyes. If you like the black and want to use it all the time, you can change your design permanently in the Mobilní banka settings. You can also look forward to new app control. You will no longer find the menu in the upper left corner. From now on, all Mobilní banka offers will be at the bottom of the app. We don't forget about iOS devices either. In September, you will have the choice between white and black design.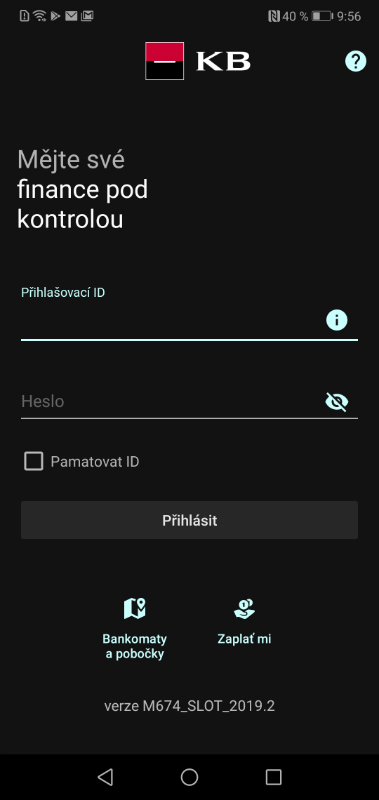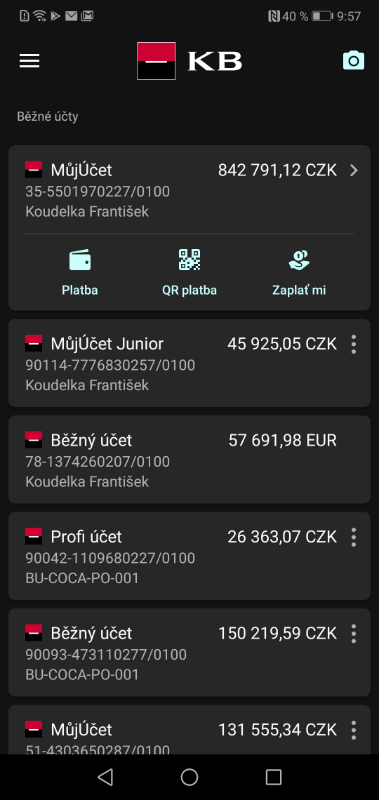 Possibility to download electronic statements from a mobile phone
You will be able to download electronic statements from your current, savings, term or credit account.
Mobilní banka for Windows is coming to the end
Unfortunately, we are forced to close the Mobilní banka app for the Windows platform. However, the other platforms are still being improved and can be downloaded at any time.
New push notifications for card transactions
Do you withdraw from an ATM and pay by card? Now you will see the difference, we will tell you what payment is what in push notifications. Another novelty is that if you pay or withdraw cash in a foreign currency, you will also see the amount in the original (foreign) currency. I.e. you are collecting / paying EUR 100, until now you have only seen the amount converted into CZK, but now you will see that it was CZK 2500 / EUR 100.
Paying in Mobile Banking only Possible from a Paired Device
Due to security reasons, the Mobile Banking and Mobile Banking Business only allow transfer of payments from a device which has been paired with your internet banking through MojeBanka or MojeBanka Business. If you are using a device which has not been paired, please, pair it (guide to be found at kb.cz/settings) or visit your closest branch.